The numbers of people out in the world keeping the Fahey legacy alive is amazing to me. It comes from the picker on youtube.
Bill Brown may have the record on youtube for the most Fahey covers. Take a listen to this excellent version of "Days Have Gone By"
Life is like a mountain railroad. Actually, this guy might have more than Bill, wow. The TAB of this was posted this week!
And this TAB was posted this week too!
And then we have Benjamin Ferguson. This guy had a book sitting in his brain that had to come out. The title is a tip of the hat to two great artistic heroes of his: John Fahey and Cormac McCarthy. It's called "Stomping Tonight on an Appalachian Meridian."
Instead of chapters the book is divided into tracks, like a record. And I don't want to give too much away but the main character in named Kensington...as in the song by Jack Rose. Cool, eh?
He has written this novel to honor American Primitive Guitar and some of its masters. He's offering it for free, one track a week for 9 weeks.
Check it at
Benjamin K Ferguson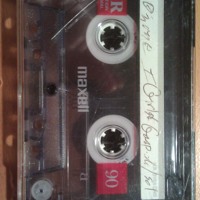 And then there's this... "In the 1990's my future wife was a record store clerk in Portland, Oregon. American guitar legend John Fahey was living in a nearby town and would visit the shop. Here are two mix cassettes that he made for her during that time."
Man, if some of my old mix tapes I made for women got out, I'd, well...I would have to deny, deny, deny...
Check it
HERE


Well, only one more day of Fahey Week. And tomorrow's post is more of today, the Fahey legacy. But it deserves a post all it's own. Steve Lowenthal has written the first bio of Fahey and it finally has a publish date. Steve has been kind enough to write a short piece for Delta-Slider about the book. That will be up tomorrow, see you then Friends of Fahey.